Email Validator™ Features
Email Verification: Verify bad email addresses.
Multithread Connections: Number of connections you want to make while performing email validation. More connections will use more system resources and internet bandwidth, but it will speed up the validating speed. Recommended maximum 50 connections. (Available in Registered Version Only)
Size of the mailing List : Handle unlimited size of the email list (Available in Registered Version Only)
Mailing List: Import email lists from .TXT files
Save: Once the addresses have been validated, you can save the valid or the invalid email addresses in two separate files.
---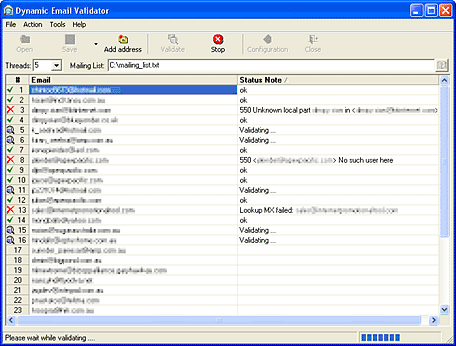 ---
Email Validator™
Freeware Version

Email Validator™
Registered Version

Price

FREE

Suitable for

Individual users or Small
and Home business

Medium sized company
having Large Mailing List

No. of Email Addresses

500

Unlimited

Multithread feature

FREE on going support

30 Days money back guarantee
---